| | | |
| --- | --- | --- |
| | LATEST NEWS/ PHOTOS | |
OCTOBER 2014
Hello again peoples (to the twelve of you who read this anyway). :P
Not a lot happening in October, unless you're in Dunedin or on the forums.
Forums have had a wee bit of a change around lately, the Inactive Members group has gone, we no longer delete members if they have never posted/not posted in over a year, nor do we inactivate accounts anymore (all highly popular decisions - well, the decision to scrap them is!).
We never really had any negative feedback to this sort of thing, which is why it took so long to change it. We don't know whats annoying you until you tell us, and if you don't we can't change it as we don't know about it! ;)
You still need to do an introduction topic as your first post, and then you get access to most of the forums (aside from For Sale/Wanted etc, like other forums), and after ten posts the rest of the forum will open up... A number of other forums around the net use this method, and they are popular forums - so it looks like this is the way to go. Sorry to all those who've gotten annoyed at the changes, but as mentioned - we didn't know what we were doing wrong because no-one actually told us until recently!
AAAAANNNNNNNNYYYWWHHHHHOOOO. Dunedin's monthly meet is on this Sunday, with a change of venue. Ice Stadium carpark is booked out, so we'll be further up the road (north) outside Tahuna Park (by the big trees). Or John Wilson Drive, if the Tahuna Park parks are full. Or if John Wilson Drive is full we'll be lapping back and forth along Victoria Road until everyone turns up. :P ;)
Anyway, as always the meet is on rain or shine, anything is welcome, and so on and so forth.
See you there...
---
2007 DUNEDIN OCTOBER MEET
Redoing a cruise this Sunday, the 26th of October, that we did in 2007 on the 27th of October! Will be visiting the below location again during the cruise and finding somewhere to take pics if there are other cars there, which there often are.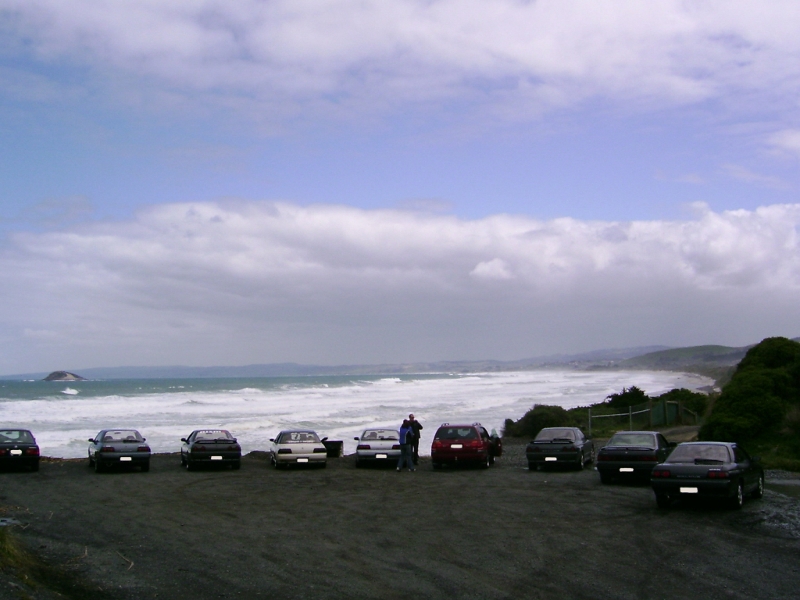 A QUICK (?) INTRODUCTION...

SSE was formed in late July 2004 and we mainly cover the South Island of New Zealand, but welcome anyone from around the world (or beyond?!).
There are numerous simple ways to join us: 'Like' our Facebook page (link in top right hand corner of page), register in the forums, or simply ask to be added to our e-mail or text list so that we can inform you of upcoming meetings and events.

Criteria for joining us? If you own or even just like any sort of Prince/Nissan Skyline (1957 models to now), Cefiro, Stagea, Laurel or other Skyline powered car then that's all you'll need to join us!

In our regions we try to hold regular meets all throughout the year. Such as park ups & cruises, car shows, motorsport events, go-kart meets, movie nights, and so on. Apart from washing other peoples cars to raise money, there's not much we won't do/try!

Age/gender is no barrier at all, we have female and male 'members' in their teens and some well over 50 years old.
Age/modification level of your car isn't an issue either, if you've spent $40k+ modifying your ride, or have a completely stock standard Skyline etc then we'll still welcome you with open garages to our club (or open arms if you've got a particularly rare car!).

We are also the founders/main organiser's of the successful Dunedin charity car cruise/car show, the Otago Community Hospice Charity Cruise.

If you like what you hear (which we hope you do - if not then please contact us to let us know why not, so we can try to improve!) so far, then take one or more of the steps mentioned at the top and we hope to see you soon!

For more information about the club, please click here.